Re-Elect
Dr. Theresa Daniel
Dallas County
District 1
VOTE EARLY
October 13-30
ELECTION DAY
Tuesday, November 3
News/Events

It's Flu Season - Dallas County Health and Human Services Now Offering Walk-In Flu Immunizations
DALLAS (Sept. 21, 2015) - With flu season on the horizon, Dallas County Health and Human Services is offering walk-in flu immunizations at area clinics.
Dallas County is focusing on preventing illness in individuals and mitigating the spread of flu. The cost is $10 for the first visit and $5 for subsequent visits. Those who are Texas Vaccine for Children eligible are also served.
"Dallas County has five walk-in clinics spread around the county, so it's easier for families to be prepared for flu season," said Commissioner Dr. Theresa Daniel.
Click here for clinic locations and hours, or call 214-819-2163.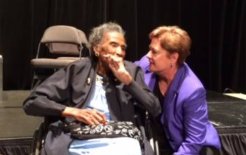 Commissioner Daniel Issues Statement on the Passing of Civil Rights Leader and Selma Demonstrator Amelia Boynton Robinson
DALLAS (Aug. 29, 2015) - Commissioner Dr. Theresa Daniel issued the following statement upon the passing of Amelia Boynton Robinson this past week:
Amelia Boynton Robinson, a matriarch of the civil rights movement, died this past week at the age of 104. Her life was reintroduced to America this year with the movie "Selma," which portrayed the 1965 demonstrations that led to the passage of the 1965 Voting Rights Act. Ms. Robinson grew up in Savannah, Georgia but moved to Alabama in the 1930s with her husband where the couple began fighting for voting rights in the poorest parts of the state entrenched in the thick of Jim Crow.
Amelia and Samuel Robinson let the Student Nonviolent Coordinating Committee use their insurance office as headquarters and opened up their home for planning sessions and as shelter for fellow civil rights activists. She played a pivotal role in persuading the Rev. Martin Luther King Jr. to focus on Selma. The Robinsons were among the 600 or so people who attempted to cross the Edmund Pettus Bridge in March 1965 in a protest march from Selma to Montgomery, the state capital. State troopers met the marchers at the bottom of the bridge where they fired tear gas and clubbed people in what became known as Bloody Sunday. Ms. Robinson was beaten unconscious. She described the moment many years later in her book, "Crossing Jordan." A newspaper photo of her lying on the ground, a middle-aged housewife left for dead, shocked the entire nation. That is how most Americans came to know of her.
I had the honor to meet Amelia Robinson in March of this year in Dallas at The Black Academy of Arts and Letters recognition of the 50th Anniversary of the passage of the Voting Rights Act. Her words were to keep up the fight for voting rights until all have equal opportunity to use our voices through our votes. She lived the last decades of her life in Tuskegee, guided, she told me, by her Christian faith. She died harboring no animosity for anyone, not even those who might have hated her for the color of her skin. May the spirit of Amelia Boynton Robinson live on in each of us for the betterment of all.
Learn more about this civil rights icon here.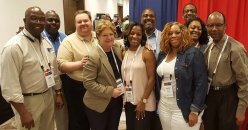 Dallas County Leaders Attend Texas Association of Counties Legislative Conference
DALLAS (Aug. 27, 2015) - Dallas County Commissioner Dr. Theresa Daniel and other county leaders attended the Texas Association of Counties Legislative Conference this week in Austin. The conference is a chance for Dallas County leaders to learn about how other Texas county governments are functioning as well as share their own successes. Leaders are also briefed on how new legisltation may impact Dallas County.
"Dallas County is on the cutting edge in many areas, so we are proud to share our efforts," said Commissioner Daniel. "We also learn a lot by sharing the collective knowledge of people in county government around the state."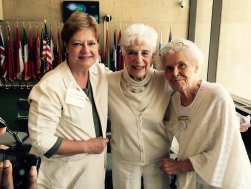 Commissioner Daniel Celebrates Women's Equality Day with Women's Issues Network at Dallas City Hall
DALLAS (Aug. 21, 2015) - Commissioner Dr. Theresa Danile celebrated Women's Equality Day at Dallas City Hall, marking the 95th anniversary of women gaining the right to vote in the United States. Dallas Mayor Mike Rawlings was the speaker. Commissioner Daniel is pictured here with Beverly Tobian and Vivian Castleberry, both pioneering women leaders in the Dallas area.
Women's Equality Day is sponsored by the Women's Issues Network, the League of Women Voters, the National Council of Jewish Women's Greater Dallas Section, South East Dallas Business and Professional Women's Club, the Dallas Women's Foundation and Delta Sigma Theta Sorority.
The Women's Issues Network brings together individuals and organizations to advocate for equal opportunity and advancement for women. Find the group on Facebook.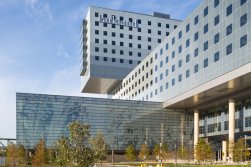 Commissioner Daniel Marks Opening of State-of-the-Art New Parkland Hospital
DALLAS (Aug. 20, 2015) - Commissioner Dr. Theresa Daniel marked the new Parkland Hospital moving in day with a visit to the new facilities. The new facilities add 2.8 million square feet to the Parkland campus.
"What excitement to finally begin moving patients, equipment, and services to the new Parkland," Commissioner Daniel remarked. "From the first Care Flight arriving this morning, to wheeling patients across the Sky Bridge from Old Parkland, it's been an exciting day for Dallas County. Dr. Fred Cerise, the president and CEO of Parkland, is doing a great job monitoring every aspect of the move."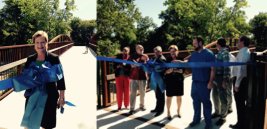 DALLAS COUNTY CELEBRATES TRAIL IMPROVEMENTS
DALLAS (July 16, 2015) - Dallas County and area city officials celebrated important park and trail improvements in June and July.
In Richardson, a ribbon cutting ceremony was held on June 2 to mark the opening of the Central Trail. The expansion of this multiuse trail now connects the Arapaho DART Station to Richardson's southern city limit. The trail will eventually be linked up to the White Rock Creek Trail.
A ceremony was held with the City of Dallas on July 16 to open the SoPac-Gaston Avenue Trail. This East Dallas trail and bridge project connects the Arboretum Village shopping center to White Rock Lake and The Lot.
"This is one of the greatest parts of being a Commissioner, helping make improvements to recreation," said Commissioner Daniel. "Our area is growing, and better recreational facilities will only make our region more competitive in bringing in residents and businesses."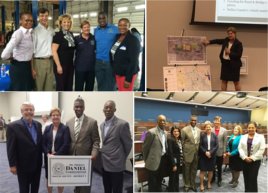 Commissioner Daniel Updates Citizens on Dallas County Initiatives at Three Successful Town Hall Meetings
DALLAS (June 30, 2015) - Commissioner Dr. Theresa Daniel held three successful town hall meetings this month to update citizens on Dallas County initiatives and receive feedback. Several Dallas County departments made presentations, including Health and Human Services, the Dallas County Tax Office, Public Works and Trails, and the Office of the District Attorney.
"I pledged to be transparent and available to voters, and these town hall meetings are a big part of that, enabling citizens to talk directly to the people who are planning and executing services for constituents," said Commissioner Daniel. "This is also one of my favorite parts of the job, engaging with people."
Want to invite Commissioner Daniel to speak to your organization or neighborhod association? Use the contact form to make a request and to be added to the email list to receive alerts.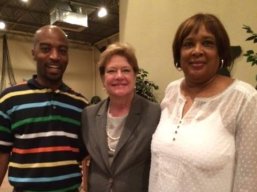 Commissioner Daniel Congratulates Honorees at SE Dallas Chamber Banquet
DALLAS (April 24, 2015) - Commissioner Dr. Theresa Daniel attended the South East Dallas Chamber of Commerce Spring Awards Banquet on April 23. The Chamber honored Carolyn Johnson and Korey Mack, leaders in the award-winning Buckner Terrace Neighborhood Association.
"I am a big believer in neighborhood associations. They are the bedrock of citizen involvement and provide a great way to get involved," said Commissioner Daniel. "Kudos to the Buckner Terrace group. They are doing a great job."